Inside Track
SportsTech Monthly Roundup 21: Wrapping Up 2021 & Heading to CES in 2022
#Media/Entertainment
#Venue/EventInnovation
ces2020
entrepreneur
sportstech
startup
startups
We hope you and yours are having a safe and relaxing end of 2021.
The week before New Year's is always a time of reflection. Will this be the year that we take the coat hangers off of the Peloton and get some miles in? Are we really going to start closing all of the rings on our Apple Watch?
It's this Rolodex of resolutions we've curated throughout the year that makes this an inspiring time of the year. As for 2022, our team will be starting it off at CES — where we hope to see some of you IRL. On the other hand, if you're going to watch virtually, we promise to bring you along via our social channels and a CES wrap-up at the end.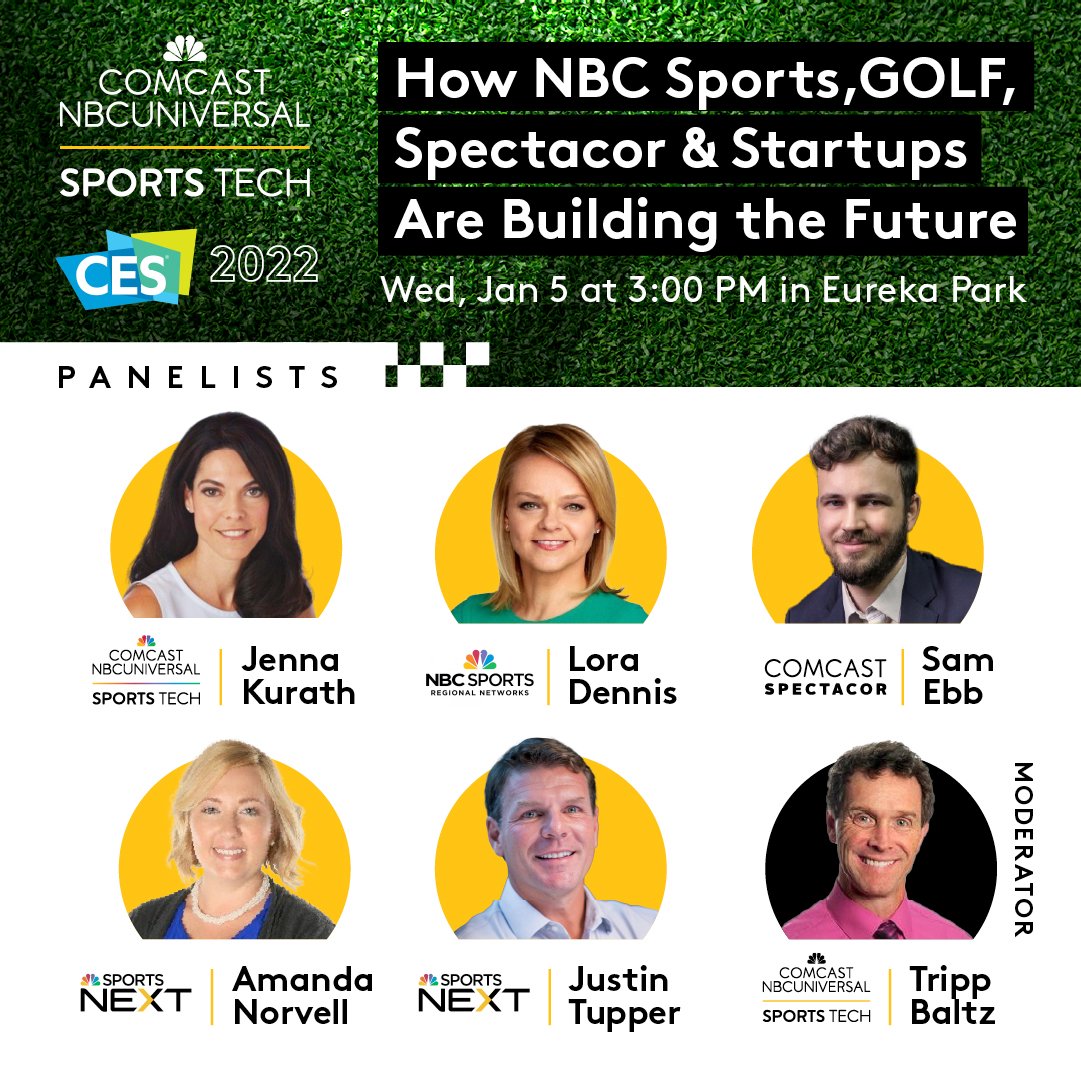 In the last decade, sports tech has developed a significant following at CES as wearable technology and mobile devices have joined alongside athletes during all phases of their training and competition. We're excited to take part in it in 2022.
Here's a breakdown of what we're doing:
Ready to rev some virtual engines? Pull into our booth with your friends and see who gets the best time on our iRacing simulator. We're swapping out some of NASCAR's top tracks every day. Do you have what it takes to cross the checkered flag first? Join us to find out!
Check out our panel! From fan engagement to predictive analytics, today's sports leaders are working on the hottest things in tech. Hear from the industry's top leaders at Comcast NBCU SportsTech, NBC Sports, GOLF, and Comcast Spectacor on how startups have brought game-changing innovations into their business. 🗓 Attend our Panel
Win cool stuff! Attendees at CES can win big with the best iRacing lap time while our audience cheering us on digitally can enter to win a Quest 2 in a special all-digital competition. After all, working out and golfing is pretty rad in VR. 🏆 Enter to Win a Quest 2 Setup!
Meet Comcast SportsTech! CES is about synergy and awesome conversations. Swing by our booth and chat with a few of our alumni. Find out more about our partners, startups, innovation areas, and how to apply to the next program.
Well, we were able to put the spotlight on all of our alumni by the end of the year through our Startup Showcase! In December, we caught up with teams changing sports with neuroscience, ultrasonic sound, and innovative swim gear.
"Throughout the SportsTech program, one of the most helpful aspects for us was learning how to tell the story of our company to the rest of the world. Between excellent advice from the SportsTech team and experts in storytelling like Claudio Sennhauser and Nathan Gold, we not only improved our pitch but also gained a better understanding of our own motivations behind what we're building."
—Charles Rodenkirch, founder and CEO
🧠 How Sharper Sense's Wearable Neurotechnology Enhances Athlete Performance
"We enjoyed meeting with the NBC partners and the SportsTech mentors. They helped us realize what direction we should move towards. The part that was the most difficult was keeping up with the video immersion program at the same time as the Sports Tech program."
—Emma Gaona, Director of Administration
👂🏼How Audazzio is Bringing Ultrasonic Tech to Sports
"Joining an accelerator during a pandemic certainly had its challenges, but one of the most rewarding parts was gaining a tribe during a very isolating time. I had decided to leave my full-time job six months before the shutdown, so I was terrified as to what this may mean for my business. I'd already risked so much in taking this leap, so I was determined to keep my business afloat in spite of what was going on around me."
—Trish P. Miller, CEO
🤝 SportsTech Partners in the News 🤝
🎙 Sports Tech Nation Summit | Via: Colosseum
Our own Jenna Kurath recently joined an all-star panel to discuss the next generation of sports content.
🇺🇸 Olympic Wrestler Signs Multiyear Deal with WWE | Via: ESPN
Gable Steveson, an Olympic gold medalist, signed a multi-year NIL deal with the WWE that allows him to defend his national championship at the University of Minnesota and work at a remote training facility with WWE coaches.
🏁 Bubba Wallace on Building a NASCAR Legacy | Via: People
With his racing team, Michael Jordan became the first Black majority owner in NASCAR. Wallace—the only Black driver in NASCAR's Cup Series—talks about working with Jordan to build a legacy in racing.
⛳️ PGA TOUR Extends Bettor Agreement | Via: PGA TOUR
The PGA TOUR will work to provide odds to fans via TOUR digital platforms along with the ability to follow shots and view 3D renderings of golf courses.
📚 Sports Tech Stories We're Reading 📚
🏆 Simone Biles TIME Athlete of the Year | Via: TIME
Heralded as the GOAT for her ability to turn, twist and amaze us, Simone Biles is the best gymnast in the world. She also helped create a much-needed global dialogue about the importance of athlete mental health and well-being.
🏀 Jordan Launches Platform to Connect Athletes and Creators | Via: Hypebeast
Michael Jordan and his son created Heir, a new company that is designed to connect athletes and creators using web3.
👟 Foot Locker Unveils First Womenswear Brand | Via: Front Office Sports
Two months after announcing LCKR, its first private apparel label in three years, Foot Locker unveiled Cozi, the company's first proprietary womenswear brand.
We hope you've had a tremendous year and we truly look forward to continuing the sports tech conversation with you well into 2022. We wish you and yours a safe and joyous New Year's!
Subscribe to Inside Track: